Is Mise Raifteirí - I'm Raftery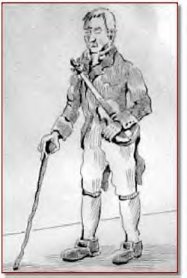 Impression of the poet, Anthony Raftery,
executed by Donal MacPolin.
Raftery was born in Killedan in 1779 or 1784, the son of a weaver. He was blinded by small pox while very young and is said to have worked as a stable boy for the landlord, Frank Taaffe. This Raftery poem is a famous one. In fact it was written on the backside of the Irish 5 Punt note. He was a wandering musician with a fiddle and like so many vagrant musicians of the time (c. 1784 - 1835 ) he was blind. They taught the blind to play an instrument so that they would at least be able to earn some sort of a living despite their handicap. The poem is so full of human kindness and warmth. *
Is Mise Raifteirí an file,
Lán dúchais is grádh,
Le súile gan solas,
Le ciúnas gan crá.

Ag dul síar ar m'aistear
Le solas mo chroí
Fann agus tuirseach
Go deireadh mo shlí

Féach anois mé
Is mo chúl le bhfalla
Ag seinm ceoil
Do phócaí folamh

I'm Raftery the poet,
Full of hope and love,
With eyes without sight,
My mind without torment.

Going west on my journey
By the light of my heart.
Weary and tired
To the end of my road

Behold me now
With my back to the wall
Playing music
To empty pockets.
"I think it is delightful. Reminds me of Mozart's 'Eine Kleine Nacht Musik'of which it was said that 'It's so simple a child could play it ... but a master couldn't do it justice. Of course an old blind man would prop himself against a wall for support whilst he was playing It's as nice a word picture as you could ask for. I heard an old fella saying one time, "Ní raibh Rafturaí dall ach bhí se caoch... "(Rafturai wasn't blind but he was poor sighted). He even managed to get married and had a few kids" ... Caoimhghin Ó Brolchain of Devon, England.

Antaine Ó Reachtabhra (Raifteirí) (1784-1835)
* Special thanks to Caoimhghin Ó Brolchain (Kevin Bradley)
of Devon, England for his fine commentary on the poet and the poem.
Courtesy of Jack & Vivian, IrishPage.com August 2022
Replay background music: Connemara Lass.



Filleadh go liosta
Click icon above to go back to poemlist