Imeachtaí na Gréine - Solar Events



Éirí an Domhain mar atá ar an Gealach
Earthrise as seen from the moon.


An Ghrian

- The Sun




grian
éirí gréine
breacadh an lae
luí gréine
clapsholas
urú gréine
cónocht
grianstad


sun
sunrise
dawn
sunset
twilight, dusk
eclipse of the sun
equinox
solstace





The Earth -

An Domhan




an domhan
talamh
spéir
na Saighneáin
Crios na cruinne
Mol Thuaigh
bun na spéire


Earth
ground
sky
Northern Lights
Equator
North Pole
horizon




seisreach
réalta
pláinéad
saitillít
astar&oacuteideach
Crios astar&oacuteideaí
dreige
dreigit
réalta eireabaill

réalteolaíocht
réalteolaí
réadlann
teileascóp

atmaisféar
bliain solais
cruinne
pol dubh
réalta abhac
réaltra
--------

plough (big dipper)
star
planet
satelite
asteroid
asteroid belt
meteor
meteorite
comet

astronomy
astonomer
observatory
telescope

atmosphere
light year
universe
black hole
dwarf star
galaxy
nebula


Na Plainéad

- The Planets




Mearcair
Véineas
an Domhan
Mars
Iúpatar
Satarn
Úránas
Neiptiúin
Plútón


Mercury
Venus
Earth
Mars
Jupiter
Saturn
Uranus
Neptune
Pluto




An Gealach

- The Moon




gealach, ré
éirí gealaí
luí gealaí
urú gealaí
oiche ré dorcha
úrghealach
lánghealach
gealach fomhair
gealach dheirceach

spás
spáslong
roicéad
spásaire
siúl spáis

réalta thuaigh
Bealach na Bó Finne
Slat an Rí

fithis
imtharraingt

moon
rising of the moon
setting of the moon
eclipse of the moon
moonless night
new moon
full moon
harvest moon
crescent moon

space
spaceship
rocket
astronaut
space walk

North Star
Milky Way
Orion's Belt

orbit
gravity



......craiceann Mars Feabhra, 2004
Surface of Mars, Spirit Rover Feb 2004

The phonetics above are an approximation to aid in pronunciation. For official phonetics, consult the dictionary Fóclóir Poca.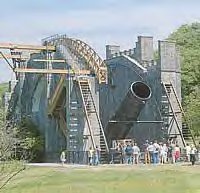 "During the 1840's, the third Earl of Rosse designed and had built the mirrors, tube and mountings for a 72 inch reflecting telescope which was the largest in the world at that time and remained so for three quarters of a century. With this instrument, situated near the middle of Ireland, Lord Rosse was able to study and record details of immensely distant stellar objects and to provide evidence that many of these mysterious nebulae were actually galaxies located far outside our own." ...courtesy of Birr Castle website.

A group of visitors at the left watches the large telescope, with its surround under reconstruction, being demonstrated.

Link courtesy of Seán Hackett, Tullamore, Co, Offaly, Ireland.

Courtesy of Vivian and Jack Hennessey, IrishPage.com 2004
Midi Music: Morning has broken



siar abhaile: Back to Home Page

NASA picture of the day