Sail Óg Rua - Young Red haired Sally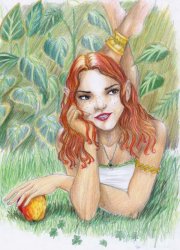 Composed by Seán Mac Aoidh [John McHugh] of County Mayo, Ireland, after the death of his young wife Sail Óg Ní Mháille [Young Sally O'Malley], sometime before 1824. Translated by Brian O'Rourke in Pale Rainbow. An Dubh ina Bhán, Gaelic folksongs with English translations (1990). One story is that Seán Mac Aoidh was accused of killing Sail, and composed this song in prison as proof that he had not. According to tradition, some of her family came to the prison to avenge Sail, but went away again after overhearing Mac Aoidh singing this song.
le Seán Mac Aoidh, 1824.

1. Nach mise an trua Mhuire 'dhul go Carraigín an Fhásaigh,
's mé a' gol agus a' gárrthaíl is a' déanamh bróin?
mé ag oiliúnt mo leanbh ar bhacán mo láimhe,
's gan fiú an braon bainne agam a thiúrfainn dhó.



by Brian O'Rourke, 1990.

1. Am I not the pity of Mary, going to the Little Rock of the Wilderness,
and I weeping and crying and lamenting?
Rearing my child in the crook of my arm,
and without even a drop of milk that I could give him.



2. Dhá mbeadh fhios ag daoine an ríocht ina mbímse,
san am a smaoiním ar Shail óg Rua,
's go bhfuil fuil mo chroí istigh dhá tabhairt ina braonta,
'gus a Dhia cén t-íonadh i ndiaidh mo stóir?


2. If people knew the condition I am in
at the time I think about young red-haired Sail,
and the blood of my heart inside is being shed in drops,
and, oh God, what wonder, after my treasure?


3. In aois a sé déag sea fuair mé fhéin í,
nár dheas an féarín í ag fear le fáil?
Ach a stór mo chroí 's tú a d'fhag liom fhéin mé,
mar chuaigh tú i gcré uaim in do chailín óg.


3. At the age of sixteen is when I myself got her,
wasn't she the present for a man to get?
But, O treasure of my heart, it was you who left me by myself,
for you went into the clay from me, and you a young girl.


4. Mo ghrá do bhéilín, 'sé nár chum na bréaga,
's bhí do bhrollach álainn mar an eala a' snámh
bhí do dhá chíoch gléigeal le mo leanbh a bhréagadh,
'gus, a stór, dhá  bhféadfainn, ní bhfaighfeá bás.


4. My love, your little mouth, it did not frame lies,
and your lovely breast was like a swan swimming;
your two bright breasts were (there) to soothe my child,
and my treasure, if I could help it, you would not die.


5. Ó b'fhearr liom go mór mór i mo dhiaidh san ród thú,
a' bleán mo bhó dhom nó i mbun mo thí,
ná saibhreas Sheoirse is é fháil le stróinse,
's gur go domhain faoin bhfód a d'fhág mé Sail óg Rua.


5. Oh, I would far far rather you behind me on the road,
milking my cow for me or in charge of my house,
than the wealth of (King) George to be got with a waster
and deep beneath the sod I left young red-haired Sail.


6. Ach dháfhaide uaim siar thú in íochtar tíre,
ba dubh í an oíche nó thriallfainn ann;
ach mo thaobh ní shínfead le haon bhean choíchin,
mara bhfá' mé dídean faoi do bhrollach bán.


6. But no matter how far away from me you were in the lower country,
the night would be black or I would journey there;
but my side I will not stretch by any woman ever,
unless I get shelter under your white breast.


Courtesy of Vivian and Jack, IrishPage.com, September 2010
Replay background music: Sail óg Rua



Filleadh go indeacs
Return to Song index