Staróga le Cearbhallach - Carolan's Anecdotes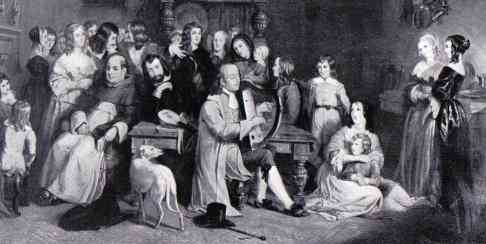 The following fourteen anecdotes about Carolan are recounted in the book by Donald O'Sullivan in volume 1, chapter 16 entitled Anecdotes and Occasional Verses.
1. Dr. John Stafford once pressed Carolan to stay a little longer and Carolan made the following humerous reply:
le Toirdhealbhach Ó Cearbhalláin
Go tigh do charad má théid tú,
Cuairt fhada ní h-í is fearr;
Páirt ded' chion beir leat uaidh,
Is ádhbhar d'fhuatha an t-iompoghadh gearr.'

Hardiman pg. 110: Hardiman's verse-rendering.
If to a friend's abode thou shouldst repair,
Pause, and take heed of lingering idly there;
Thou mayst be welcome but, 'tis past a doubt,
Long visits soon will wear the welcome out.
2. There is one fault that Carolan would not abide and it is that of a host failing in hospitality. When thirsty he expected to be offered a drink. It was Bridget's misfortune to fail in this respect and so Carolan wrote this epitath on a niggardly ale-wife named Bridgtet Waldron:
le Toirdhealbhach Ó Cearbhalláin
Gairim is guidhim thú, an leac is ná leig Brighid amach,
Nó ghéaróchadh sí 'ar ndeoch is náirechadh sí 'ar dteach.
Is iomdha saoi gan locht a dtug sí a bhás le tart,
Is anois ó tátú i bhfeart, damnadh síorruidhe ort -- is tart, tart, tart!

Hardiman pg. 124: Hardiman's verse-rendering.
I prithee, tombstone, let not Bridget come back whence she came,
For she would turn your liquor sour and put your house to shame,
Full many a faultless poet has through her by drought been cursed,
Now she's buried, devil plague her -- and thirst, thirst, thirst!
3. Of Carolan's devotion to the ancient faith there is much evidence. However almost none of his religious poems have survived. The following quatrain will give you an idea of his religious sentiments.
le Toirdhealbhach Ó Cearbhalláin
A rígh na gcréacht, fuair éag i mbarr an Chraínn,
Is croidhe do chléi do réabadh le láimh an daill,
Fuil do ghéag do théacht ar talamh 'n-a linn,
Ar scáth do scéithe beir éin go Parrhas sinn!'

Hardiman pg. 131-2: Hardiman's verse-rendering..
O King of wounds Who died upon the Tree,
Whose heart was pierced by those who could not see,
Whose precious blood gushed forth upon the lea,
Beneath Thy shield bring Heaven to mine and me!
4. While sitting and playing with his harp at the house of a parsimonmius lady, Carolan heard the butler O'Flinn unlocking the cellar door. Instantly he arose and following the man, requested a cup of beer; but the fellow thrust him rudely out, declaring he would give him nothing unless by orders from his mistress. Insulted the bard composed the following bitter epigram:
le Toirdhealbhach Ó Cearbhalláin
Mo chreach, a Dhiarmuid Uí Fhloinn,
Nach tú ar dhoras ifrinn;
Ós tú nach leigfeadh neach dod chóir
In áit a mbeitheá 'do dhóirseóir!'

Walker, pg. 313: Walker's verse-rendering.
What a pity that hell's gates
are not kept by O'Flinn
So surly a dog
would let nobody in.
5. Though Carolan's attachment to the Catholic clergy was unbounded, yet he sometimes had occasion to make them feel his satire. Having once visited the Friars of Rossreill, a monastery on the banks of Lough Corrib in Galway, he is said on departing to have addressed them as follows:
le Toirdhealbhach Ó Cearbhalláin
Má's ionmhuin leat na bráthre,
Bí leó go sásta, socair;
Tabhair dóibh gach nídh iarraid,
'S ná h-iarr aen nídh ortha.'

Hardiman, pp. 112-13: Hardiman's verse rendering.
Wouldst thou the friendship of the friars secure,
Be civil -- be submissive -- be demure!
Breathe not a word that may their ways condemn --
Grant all they ask, but ask nothing of them.
6. On one occasion Carolan left Mr. Kelly's at Cargin and while passing through the town of Elphin with his guide, he began to feel the effects of Mr. Kelly's stout ale and he appeared to be somewhat inebriated. A gentleman who noticed his condition said to his companion in Latin: 'Homo potest bibere. Vide stupefactum poetam!' Carolan overheard him, reined in his horse and replied:
le Toirdhealbhach Ó Cearbhalláin
D'ol mé mo dhóthain, if budh mhinic liom é,
Do lionn maith Márta acht budh mhisde mé,
Glórthaí faoi chlócaí is maith thuigfinn é:
'Homo potest bibere.'

told by Bartholomew O'Dowd in Mundey-O'Reilly MS., pg. 146.
I've drunk my fill upon many a day
Of good March ale, to which I'm a prey,
Your secret language I well can say:
'Homo potest bibere.'
7. Carolan posessed many satirical powers but seldom exercised them. Inhospitality he never pardoned. Being once at the house of Mr Jennings, a farmer in Mayo, where he was sparingly supplied, he addressed his host in the following stanza:
le Toirdhealbhach Ó Cearbhalláin
Mo mhallacht go bráth ar an gloine gránnda, gann,
Is go ma mheasa ná sin an lámh nár chuir a leath-lán!'

Hardiman, p. liv.
Devil take the glass that was meant for a dwarf,
And the same for the hand didn't fill it by half!
8. The following humerous 'pass'for safe conduct for a guide was written by Carolan for his own guide Denis O'Dowd.
le Toirdhealbhach Ó Cearbhalláin
'Sé mo ghiolla-sa Donnchadh Ó Dúda,
Bíonn sé a' sodar 's ag bhrollach gan dúna;
Ní nigh sé sochar ná dochar dhom dhúighthe,
Agus sgaoiligidh tharaibh é, an bodach gan múnadh!

by O'Curry, R.I.A. Betham Catalogue, p. 297.
This is Denis O'Dowd, he's my guide,
On he trots with his shirt opened wide;
I find him no harm -- and no boon,
Let him pass, he's an unschooled loon!
9. Carolan once spent the night at a humble house between Boyle and Ballaghaderreen. Next morning he could hear two men eating breakfast. He asked his guide who they were and the answer was, 'Priest Cox and his clerk of the name of Fox' In Irish the surname Cox and the word for a cock are very close. When Carolan considered that they had finished breakfast, he repeated the following in an audible voice:
le Toirdhealbhach Ó Cearbhalláin
Aonadh mór do chonnaic mé is mé go tréith-lag 'mo luighe,
Sionnach agus coilleach i gcuideacht ag bórd 'un bídh.
Bhí cruinn-mhias uigheacha eatorra is corn maith dighe,
Agus iad ag ithe gan íomadh gan fearg, gan comhrac ná glaoi.

by unknown, Mundy-O'Reilly MS., pp.254-5
I beheld a great marvel while lying exhausted in bed,
A fox and a cock sat together a-breaking their bread.
A round dish of eggs was between them, and plenty of liquor,
And they ate without anger or strife -- not a crow nor a bicker.

When the priest heard the above words he immediately helped Carolan to a full drink of his meadar [bowl], which soon revived the spirits of the bard and enabled him to proceed with better spirits on his journey.

10. A skillful doctor once advised Carolan to abstain from drink for a period for health reasons. Carolan became severely depressed and his health began to fail. Then a second doctor, John Stafford of Elphin, gave him the opposite advice and handed him a drink. He immediately improved and recited the following verse:
le Toirdhealbhach Ó Cearbhalláin
Is duine leamh do thréigfeadh an t-ól,
Bheir sé beós do dhuine gan chroidhe,
Einach don té bhíos cruaidh,
Meisneach is stuaim don daoi.

by unknown, Muldy-O'Reilly MS., pp.156-7.
He's a fool who gives up the liquor,
It softens the skinflint at once,
It urges the slowcoach on quicker,
Gives spirit and brains to the dunce.
11. Jonathan Swift (who wrote Gulliver's Travels) was the Protestant Dean of St. Patrick's in Dublin. He had great esteem for Carolan. Abstemious himself, he never passed by intemperance in others and one day he reproved Carolan with great alacrity to which Carolan replied:
le Toirdhealbhach Ó Cearbhalláin
Sibh-se, a chléir ná meallann an t-ól,
Is ar gach aon cé mór bhur smacht,
Cé mór bhur milleán ar chách,
Ní gheibh sibh féin bás le tart!

by unknown, O'Sullivan vol 1 pg. 85.
Ye clergy who never give way to drink,
But censure our errors from last to first,
However severe your correction, I think
That none of yourselves ever died of thirst!
12. A man from Galway who converted in order to benefit, to the misfortune of his family, by the provisions of the penal laws came riding by Carolan one day. His conversion entitled him, among other things, to carry pistols in his holsters which he did with much pride and ostentation. He disdained Carolan for the bard's religion and almost ran his horse over as he passed by. Carolan responded as follows:
le Toirdhealbhach Ó Cearbhalláin
Sin chugainn dara Pádraig na cléire,
A chúl re Gaodhail is a aghaidh re Gaill,
A phéire bhachall ar a bheuladh,
'Sé beannughadh Éireann bun-ós-cionn.

by unknown, O'Sullivan vol 1 pg. 86.
See Saint Patrick the Second, his clergy's disgrace,
With his back to the Gaels, to the Saxons his face;
His pistols before him for crosiers I pray,
And he blesses poor Ireland -- but all the wrong way.
13. A family named Quinlin moved from Tipperary and set up and iron foundry. They prospered in their industry and started to mix in society, but their name was a handicap. Quinlan was a purely Munster name and sounded barbaric to the people of the locality. Quinlan decided to change his name to O'Brien, a royal name and consulted Carolan on the matter. He advised Darby Quinlan to give a grand entertainment, in the progress of which Carolan made the following announcement:
le Toirdhealbhach Ó Cearbhalláin
Is do Bhrianach do dhiallait is do ghearrán
Is do Bhrianach do ghéaga agus do shlinneán
Is do Bhrianach do mhias is do chupán,
Is fágaim ar a 'mbliadhain so tú id Diarmaid ÓChunnláin!'
by unknown, O'Sullivan vol 1 pg. 98.
Your saddle and horse are O'Briens,
Your arms and your shoulders as well,
O'Briens your cups and your dishes --
But Darby Quinlan you'll stay for a spell!
The jist of this quatrain is that all Quinlan's posessions are as good as those of an O'Brien. So he won't keep the name Quinlan much longer. Quinlan's offspring retains the name O'Brien to this day.

14. When Carolan was age 16, he fell in love with Bridget Cruise of Cruisetown. Many years later he recognized her by the touch of her hand. He went once on a pilgrimage to Saint Patrick's Purgatory, a cave in an island in Lough Dearg, in the County of Donegal. On his return to shore, he helped several devout pilgrims to get on board and recognized the touch of the hand of Bridget Cruise. Then he composed the following quatrain ex tempore:
le Toirdhealbhach Ó Cearbhalláin
Is measa liom féin ná ór na h-Éigipt is a'Ghréig ar fad
Bheith sgaramhuin riot féin is mé gan feóirlin phrais.
Chum a bheith réidh leat, a ghéag-bhrágha na n-ór-gholt tais
Blaisim dod bhéal sul a dtéigh tú tar bórd isteach!

by unknown, O'Sullivan vol 1 pg. 65.
I think it harder than the gold of Egypt and all Greece
To be parting from you, and I without a brass farthing.
To conclude with you, O neck of the tender, branching golden tresses,
Let me kiss your lips before you go on board!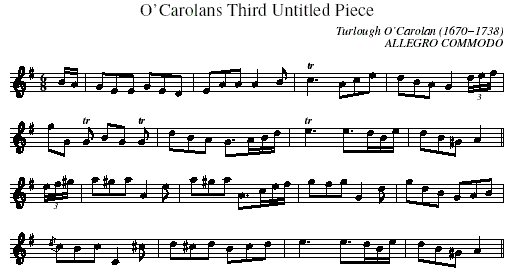 Text: Carolan, the Life and Times of an Irish Harper 2 vols. by Donal O'Sullivan, vol. 1, pg. 91 - 98.
Music: 3rd Anonymous tune by Turlough O'Carolan.
Courtesy by Jack and Vivian IrishPage.com July, 2004



Back to Carolan's List