An láthreacht Dé - The presence of God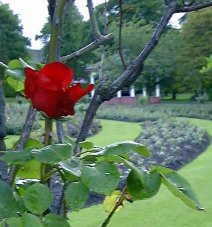 This poem was writtten by Joseph Mary Plunkett, born in Dublin, and educated at Catholic University School, Belvedere College and Stonyhurst College. For a while he was editor of the Irish Review. He was a close friend of Thomas MacDonagh and Padraic Pearse, noted Irish poets. Along with MacDonagh and Edward Martyn, he co-founded the Irish Theatre. During the 1916 Rising he was one of the signers of the Proclamation of the Irish Republic. He was imprisoned by the English army in the Richmond Barracks. Shortly before his execution in the courtyard of Kilmainham jail, on the morning of May 4th, he married his fiance, Grace Gifford, in the jail's chapel. He died at the age of 28. One of the best known romantic tragedies, his marriage to Grace has become both song and fable. Two volumes of Joseph Mary Plunkett's poetry were published. "The Circle and the Sword" was published in 1911 and contains this poem. Then the "Occulta" was published posthumously.
Aistriuchán ó Caoimhghín Ó Brolcháin.
1. Cim a chuid fola ar gach rós.
Agus glór a shúile ins na réaltaí
Géallan a chorp í measc sneachtaí sioraí.
Titeann a chuid deora ó'n spéir.

Joseph Mary Plunkett
1. I see his blood upon the rose
And in the stars the glory of his eyes,
His body gleams amid eternal snows,
His tears fall from the skies.

2. Cim a aghaidh í ngach bláth
Níl í dtorneach agus í gceol na n-éan.
ach a ghlór snoite lena chumhacht
Is iad na carraige a chuid focla scriofa.

2. I see his face in every flower;
The thunder and the singing of the birds
Are but his voice—and carven by his power
Rocks are his written words.

3.Tá gach cosán Caithe ag a dhá cos.
Bogann a chroi láidir an fharraige sior-bhualadh.
Tá a choróin dealg le gach dealg casta.
Agus a chros gach crann .

3. All pathways by his feet are worn,
His strong heart stirs the ever-beating sea,
His crown of thorns is twined with every thorn,
His cross is every tree.
Courtesy of Jack & Vivian Hennessey, IrishPage.com, November 2008
For phonetics consult the pocket dictionary Fóclóir Póca or Fóclóir Scoile.
Cabhair ó Caoimhghín Ó Brolcháin.
Replay background music: Grace seq. by Frank Lennon, 1985


Filleadh go indeacs dánta - Return to Poem index